Valentine's Day is an opportunity to show love and admiration to the special someone in your life. And while they say true love waits, some Americans wait until the very last minute to show their affection to their sweetheart.
Whether it's a greeting card, chocolates, or flowers, which states procrastinate the most when it comes to buying a Valentine's Day gift? Our new analysis and survey breaks down the biggest Valentine's Day procrastinators in the country.
Valentine's Day 2022: Biggest Procrastinators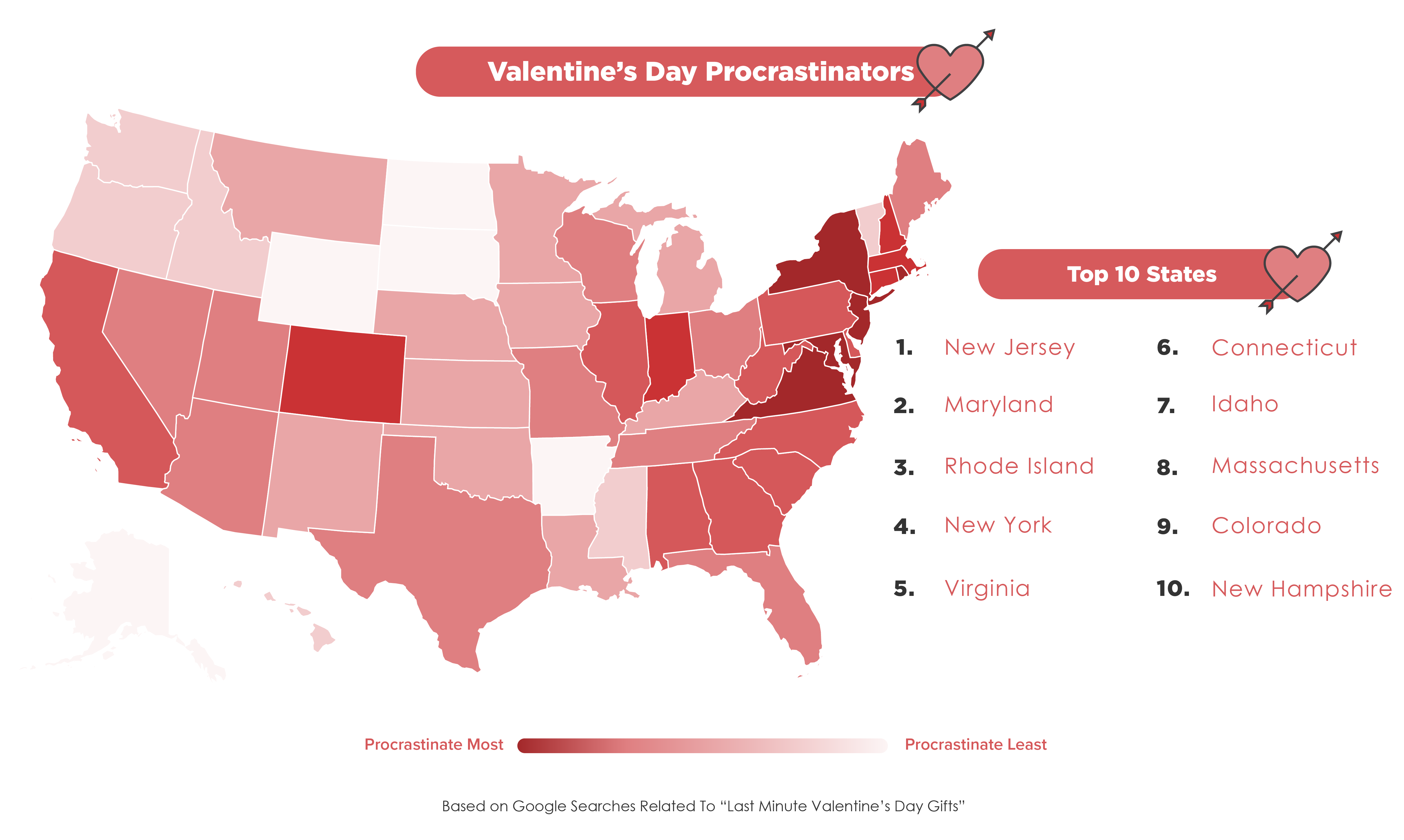 So, who are the biggest love procrastinators in the country? Turns out The Garden State of New Jersey proved to have the most Google searches for "last minute Valentine's Day gift ideas." Waiting until the last minute seems to be a trend on the East Coast as Maryland, Rhode Island, New York and Virginia round out the top five. What happened to "Virginia is for Lovers?"
Connecticut takes the sixth spot followed by Idaho, Massachusetts, Colorado and New Hampshire.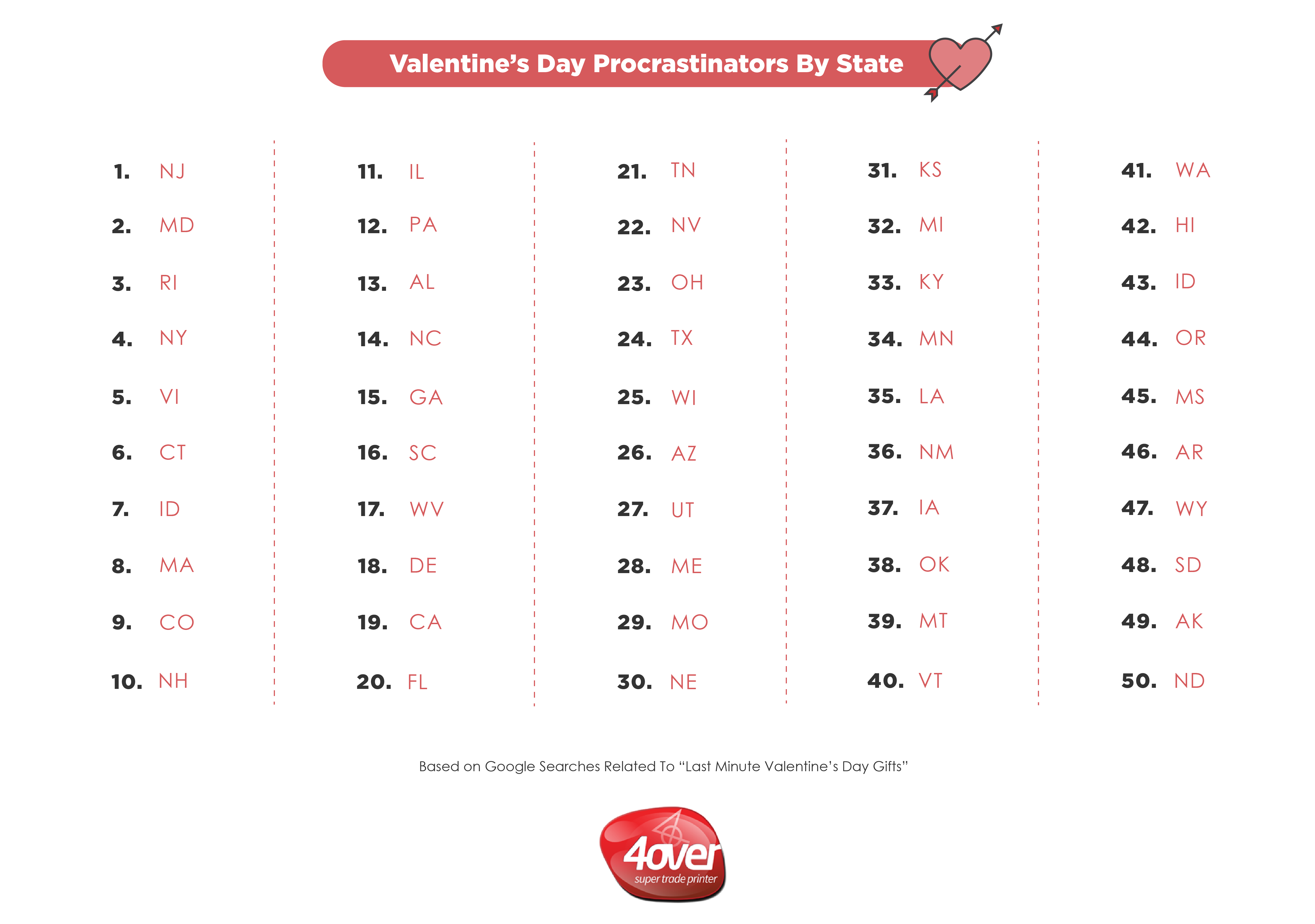 The states most prepared to celebrate their Valentine? North Dakota, Alaska, South Dakota and Wyoming.
Regardless of where they live, most Americans say they will be celebrating Valentine's Day this year. In a survey of more than 1,000 people, 67% say they plan on celebrating Valentine's Day this year and 50% admit to waiting until the last minute to buy a gift. On top of that, more than a quarter of Americans say they've forgotten to get a gift for someone they love.
Valentine's Day 2022: Biggest Procrastinators by City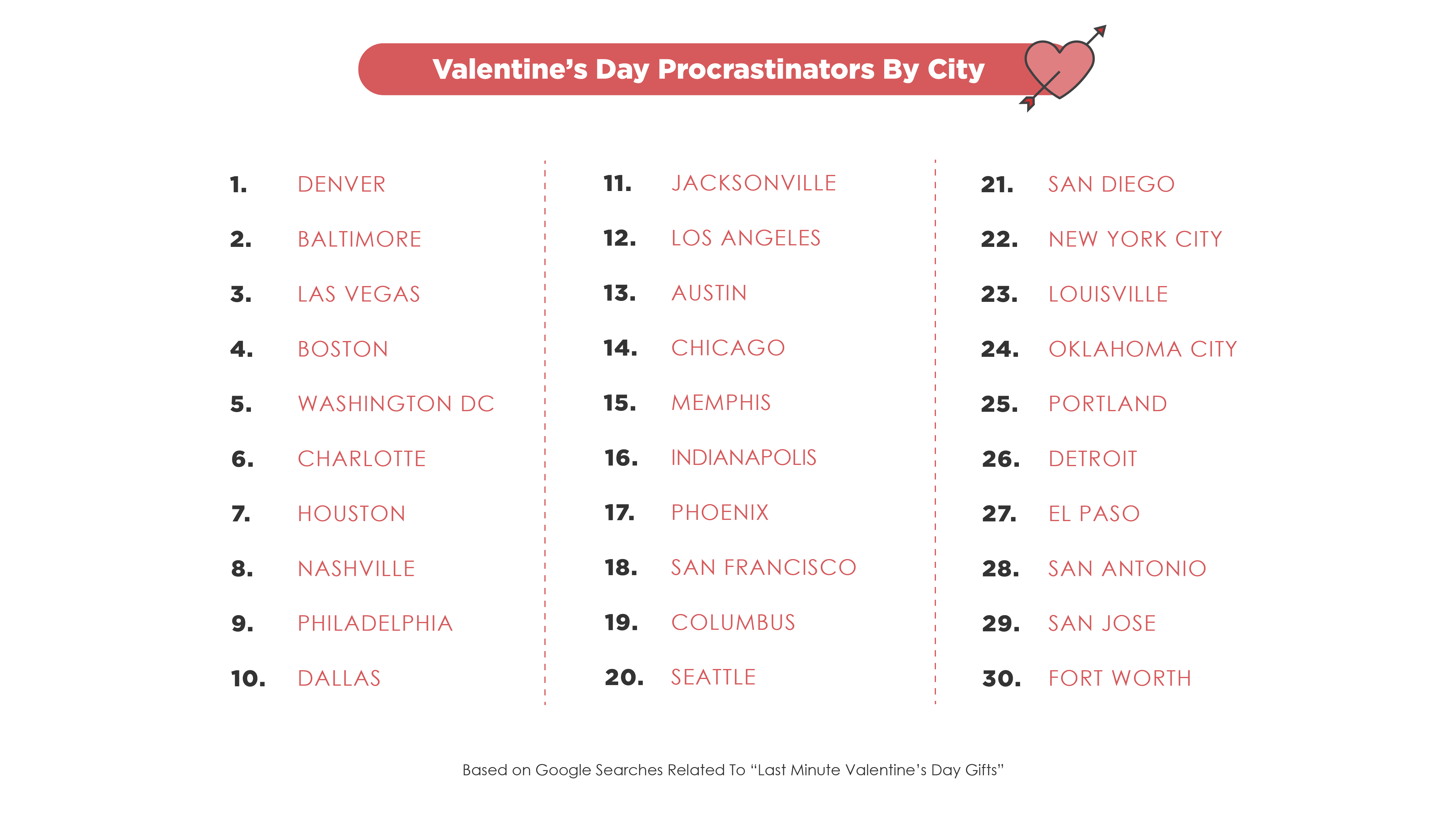 When it comes to buying last-minute gifts in the big cities, Denver residents take the cake for being the biggest procrastinators. Baltimore lovers also wait until the last minute. It may be no surprise Sin City rounds out the top three. Maybe they're waiting to see if they'll win big at the Blackjack table?
The cities with the least procrastinators include Fort Worth, San Jose and San Antonio.
Valentine's Day 2022: Gift Buying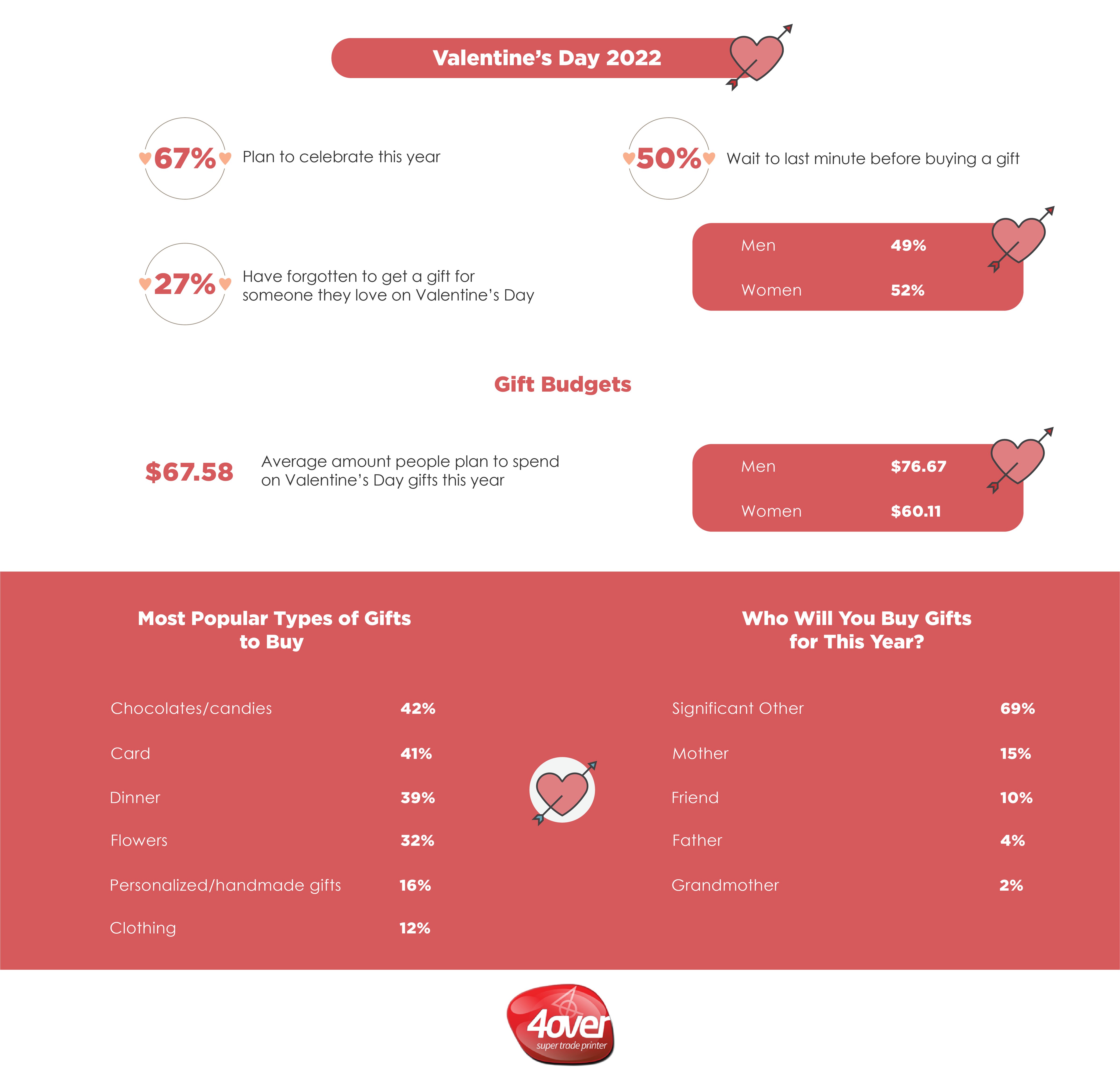 Although they say money can't buy love, men plan to spend an average of $76 on their Valentine's Day gifts this year while women spend around $60. The overall average budget? $67.58.
So, who will be getting these presents? 69% of those surveyed said they're buying gifts for their significant other while 15% say they plan to get their mother a gift and 10% will be buying for their friend.
The most popular types of gifts to give are chocolates and candies, Valentine's Day cards, dinner and flowers.
Meanwhile, 15% say it's OK to buy a boss or manager a gift and 28% think it's OK to buy for a coworker. One in 10 also say it's OK to buy an ex a Valentine's Day present. Who says it's too late to rekindle a lost love?
Methodology
For this report, we analyzed Google search volume related to "last minute Valentine's Day gift ideas" in all 50 states as well as the most populated cities across the country. We also surveyed 1,104 self-reporting Americans. 50% were female and 50% were male with an average age of 35. 25% were single, 37% were married, 28% were in a relationship, 5% were casually dating, 3% were divorced, 2% were separated or widowed.
Media Inquiries:
For media inquiries, contact media@digitalthirdcoast.net