Wondering how to market your Greeting Cards this holiday season? They're perfect for spreading holiday cheer, but with our wide variety of Greeting Card options, the possibilities are endless!
Greeting Cards are printed on high-quality paper and available with a variety of unique finishing options: from standard to extraordinary with Majestic, our signature line of finishes. Greeting Cards include a half score with the option to add gift card slits (on specific styles). This timeless approach to connect with individuals that matter to you and your business is a tangible way to create personalized messages that can be delivered to business acquaintances, valued customers, friends, and more.
GREETING CARDS
These cards will have them all up in their feelings. Your customers can offer heartfelt greetings to their clients: say thank you, offer sympathy, give holiday greetings, or offer congratulations!
GIFT CARD HOLDERS
Do you have customers who offer gift cards? They can order their personalized Greeting Cards and select the gift card slit option when they want to promote their businesses around the holidays. One popular idea is to send gift cards to their loyal customers to be used as coupons on their products. Greeting Cards are perfect for these types of seasonal campaigns and can be very easily branded.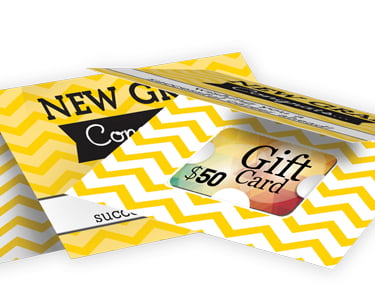 SAVE THE DATE
Greeting Cards can be used as reminders for special holiday promos and sales events. They're a fun and festive way to generate buzz for trunk shows, sample sales, grand openings, and more. This is a great way for customers to create snazzy, personalized, branded holiday themes.
INVITATIONS
This time of year also happens to be the busiest time for holiday parties. Greeting Cards make perfect invitations and they're super fun to create.
Of course, the list of options goes on and on, but hopefully, we've managed to ignite a creative spark in you to get started. Make sure to check out our complete Greeting Card range of options online. We're always adding new stocks, sizes, and finishing options.
Happy holidays, and have fun marketing this versatile product!
---
4over LLC is one of the largest wholesale trade printers in the U.S., with multiple production facilities across North America. A trusted source of print fulfillment since 2001, the company helps large franchise printers, single print shops, print brokers, graphic designers, photographers, and every type of print reseller in between grow profitable businesses by offering a vast selection of quality products at guaranteed trade-only prices. With capabilities such as gang-run offset, digital, grand format, and promotional printing, plus state-of-the-art equipment, 4over offers every customer savings, selection, and scale. Not yet a 4over reseller? Register Today!